S1E5 - WPP Dec 2: Un-Dread the Holidays!
Joined by my special guest, my little sister, Jillian!
a year ago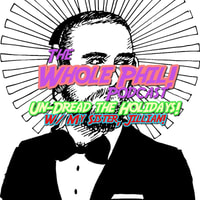 Episode Notes
Welcome to The Whole Phil podcast, I am your host, Phil Reese, the DJ, that's my Facebook name, Really Phil Reese, that's my Twitter, Phillip J Reese, that's my Instagram, my dot com and my real life.
I have a special guest this week! I'll let her introduce herself:
Hi, I'm Jillian, and my Instagram is Xoxojillzian!
Thanks for joining me today, Monday, December 2. Now that you know my sister, let me tell you a little about me, I'm a loving, lovable, fat, hairy, queer, inked, sober, spiritual, vegetarian, feminist radical leftist web developer, video producer and deejay in DC. Now that you know a little about me and where we are, let me know a little about you. Tweet me, at reallyphilreese, I'd love to meet you. Let's start the show.
---
How to un-dread the family holidays: Opting out when you can (Phil) Set boundaries and stick to them Don't be afraid to say no If you have big reservations, it's okay to say no, maybe try again next year Creating Space for yourself (Jillian) Bring a good book and leave time at the end of every day to read Booking a massage or nail appointment Cleaning house before you travel so you come home to a tranquil space to recuperate in Taking an extra day off of work for self care when you get home Preparing for disaster (Phil) Take stock of everything that could go wrong and make a plan for how to mitigate Have an exit strategy Help from your friends (Jillian) Finding allies in the family Having people outside the family you can call or text for some relief Finding humor and times to release tension Being open and vulnerable about your anxiety and talking to your family about how they can help
That's it for this week. If you're in DC and want to hear me DJ check me out Monday the 2nd at JR's for Showtunes Sing-A-Long. On Wednesday, I'll be at The Big Board on H street for Market Crash, and then back to JR's Thursday, Friday and Sunday. Please tweet me what you think about this podcast at reallyphilreese. And as always, be good to yourself, love yourself, and we're all in this together!
Support Whole Phil by donating to their Tip Jar: https://tips.pinecast.com/jar/whole-phil
Find out more at https://whole-phil.pinecast.co
This podcast is powered by Pinecast.