S1E10 - The End of the World
Some things just feel like the end of the world.
a year ago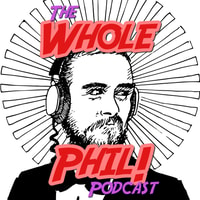 Welcome to The Whole Phil podcast, I am your host, Phil Reese, the DJ, that's my Facebook name, Really Phil Reese, that's my Twitter, Phillip J Reese, that's my Instagram, my dot com and my real life. Tweet me right now, hashtag #getyourwholephil and tell me about yourself. I am a loving, lovable, chubby, queer, sober, spiritual, vegetarian, feminist radical leftist web developer, and deejay in DC. This is the podcast where you get your whole Phil. I talk about whatever I want, with whomever I want, and do whatever I want, because there's no rules, no format, and no fucking censors. Let's start the show.
---
Today is Saturday, February 17, and we're talking about the end of the world.
Or, at least, what feels like the end of the world.
I'm the type of person who can get fixated on a specific problem or issue and not be able to move on. Sometimes this can be good. When faced with a problem at work or in an organization, I am a problem solver. I will work doggedly at an issue until it is fixed. But a lot of times in my personal life, this asset becomes a huge liability.
I can get mired in how I'm currently feeling and get spiritually stuck. I start putting as much energy into my negative feelings as I do with a piece of website code that isn't quite working right, and in this case it just makes everything worse.
For the last month I have been dealing with back pain and back issues that have been so acute and persistent it's started to feel like the end of the God damn world. This week I got extremely depressed over it. I was frustrated over the pain AND the mental and physical exhaustion of trying to get through the day with said pain. I was also feeling guilty and disappointed I had to miss two paid DJ gigs over it, and use up PTO at work. On top of that I was dropping all sorts of dollars on doctors and chiropractor appointments, yoga, massage, back braces and meds. In addition I had to bow out of a ton of other obligations, and I was feeling guilty over that.
And all of that and I wasn't feeling any better.
Stick around and in a minute I'll tell you whether or not the world actually ended.
---
I want to pause for a moment to encourage you to keep this discussion going. If you like what you hear here, please share my podcast on social media or text the link bit.ly/findwholephil to your friends. We can keep this conversation going on Twitter, I'm @reallyphilreese, use the hashtag #getyourwholephil. If you're new, subscribe at bit.ly/findwholephil, and give me a rating wherever you subscribe. Thanks, fam.
---
Now on with the show.
The truth of the matter is this back pain sucks right now, but it's not going to last forever. I'm only at the very beginning of my treatment, and this pain may very well last a while longer. But the worst of it IS over. It's frustrating to have spasms and aches pop up frequently, but it's already reduced in severity. I really want to go to the massage, the chiropractor, yoga, and get up off the table or the mat, and be done with this. But that's not how this is going to work. I'm frustrated my injury recovery isn't happening more rapidly, but none of us has control over the timeline that things like healing from an injury happens on.
I only have control over one thing, my reaction to this, and while I was trying to stay positive about all of this for a minute, I got impatient. And impatience is NEVER a constructive emotion.
---
That's it for today. I hope you're enjoying the show. If you like what you hear, please subscribe wherever you listen to podcasts, just search Whole Phil or go to bit.ly/findwholephil, and please drop me a rating. Tweet me at @reallyphilreese with topic ideas you think I should cover. [DJ GIGS: Thurs Feb 20, Thurs Feb 27, Fri Feb 28, Sun Mar 1, Mon Mar 2] Learn more about my upcoming DJ gigs at my website phillipjreese.com. And remember, be good to yourself, love yourself, and we're all in this together.
Support Whole Phil by donating to their Tip Jar: https://tips.pinecast.com/jar/whole-phil
Find out more at https://whole-phil.pinecast.co
This podcast is powered by Pinecast.