S1E12 - Spring has Sprung!
Do you see Spring as the true beginning of the year?
a year ago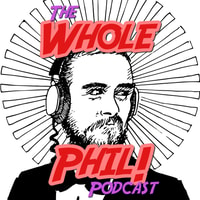 Welcome to The Whole Phil podcast, I am your host, Phil Reese, the DJ, that's my Facebook name, Really Phil Reese, that's my Twitter, Phillip J Reese, that's my Instagram, my dot com and my real life. Tweet me right now, hashtag #getyourwholephil and tell me about yourself. I am a loving, lovable, chubby, queer, sober, spiritual, vegetarian, feminist radical leftist web developer, and deejay in DC. This is the podcast where you get your whole Phil. I talk about whatever I want, with whomever I want, and do whatever I want, because there's no rules, no format, and no fucking censors. Let's start the show.
---
Today is Sunday, March 8, and we're talking about Spring!
Whether or not it feels like it, Spring is upon us. It's been a long, weird Winter, and Spring gives us a wonderful opportunity to really begin the year with a positive energy and solid goals.
A lot of people like to make New Years Resolutions, or give up something for Lent. I prefer, however, to set my intentions for the year at the beginning of Spring. Winter is a terrible time to set goals, at least north of the equator. Even if you don't suffer from Seasonal affective disorder, what kind of mental state are you in in Winter? I know I am not of my right mind during Winter. I hold off on making big plans for my year until Spring.
I'll be right back to go deeper after a quick break.
---
I want to pause for a moment to encourage you to keep this discussion going. If you like what you hear here, please share my podcast on social media or text the link bit.ly/findwholephil to your friends. We can keep this conversation going on Twitter, I'm @reallyphilreese, use the hashtag #getyourwholephil. If you're new, subscribe at the bitly link I just mentioned, and give me a rating wherever you subscribe. Thanks, fam.
---
Now on with the show.
The world is dead during winter. Positive energy is lacking. Nature springs back to life in Spring, and so do I. As the morning frosts begin to be fewer, and the cherry blossoms begin to wake up around the tidal basin, I find the energy of the year really turning on.
Now that the world is starting to wake up, I am ready to do the same. Now is a great time for me to look optimistically into the future. This year, nearing the end of my first year in sobriety, I'm ready to make some big swings to make my life more fulfilling and positive. This month is a wonderful time to meditate on my goals for the year and to make decisions on where I'd like to be next spring.
Living in harmony with nature is very important to me, so I live on nature's calendar, not man's. Therefore, this is the real beginning of the year for me. Do you like setting new goals in Spring? What kind of goals are you setting for your year? Tweet me at ReallyPhilReese and tell me about how you may or may not use Spring to set your intentions going forward.
---
That's it for today. I hope you're enjoying the show. If you like what you hear, please subscribe wherever you listen to podcasts, just search Whole Phil or go to bit.ly/findwholephil, and please drop me a rating. Tweet me at @reallyphilreese with topic ideas you think I should cover. Learn more about my upcoming DJ gigs at my website phillipjreese.com. And remember, be good to yourself, love yourself, and we're all in this together.
Support Whole Phil by donating to their Tip Jar: https://tips.pinecast.com/jar/whole-phil
Find out more at https://whole-phil.pinecast.co
This podcast is powered by Pinecast.