S1E15 - Meditation; but make it cheap
Expensive subscription based apps might work for some, but what if you are just starting out and you're not ready to commit to all that?
9 months ago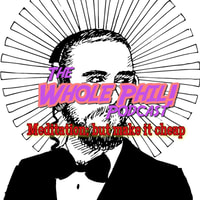 Welcome to The Whole Phil podcast, I am your host, Phil Reese, the DJ, that's my Facebook name, Really Phil Reese, that's my Twitter, Phillip J Reese, that's my Instagram, my dot com and my real life. Tweet me right now, hashtag #getyourwholephil and tell me about yourself. I am a loving, lovable, chubby, queer, sober, spiritual, vegetarian, feminist radical leftist web developer, and deejay in DC. This is the podcast where you get your whole Phil. I talk about whatever I want, with whomever I want, and do whatever I want, because there's no rules, no format, and no fucking censors. Let's start the show.
---
Today is Sunday, May 10, and we're talking about the best meditation apps for your phone that don't require a subscription.
You're probably familiar with apps like Calm or Headspace. Maybe you're even subscribed. They're very popular apps, but they also have ongoing subscriptions to use most features, which for a lot of us can be prohibitive. Maybe you're new to meditation, and you're not sure subscribing to an app that charges you every month is for you yet.
First of all, let's talk about why you should meditate. It may seem hippie dippie woo woo at first, but peer reviewed study after study has proven regular meditation has a measurable positive effect on the way your brain works. There are lots of claims that meditation can do just about anything from cure your physical ailments to bestow immortality to you, and many of these are dubious. But we do know for sure a consistent, regular meditation practice can relieve or even eliminate the symptoms of trauma,depression, anxiety, addiction, stress, PTSD, it can improve cognition and memory, increase your productivity, can reduce your risk of heart disease, and will help you get better sleep.
Not to mention, I believe it can make you a better human being by making you more conscientious, compassionate, patient and empathic. These are of course my words, not from studies, but these are the benefits I've seen in my life.
It's your brain, and it's your right to have access to letting it reach it's full potential. You shouldn't have to pay out the nose for something pre-recorded to get there.
Almost all of these apps keep a record of your progress and have a social component so you can share your meditation experience with others on the app or your real world friends.
There are three kinds of apps I'm going to review here: guided meditation apps with meditations created by qualified instructors, non-guided meditation resources, and non-meditation apps that can help with meditation.
First app is Smiling Mind: 100% free Custom programs depending on your experience with mindfulness meditation Easy to use and great introduction
Let's meditate: Donation based Guided meditations of various lengths and types Sort and organize by time, or name, favorite meditations to come back to the ones you like Set up a meditation schedule to start a regular practice
Meditation Studio: Free for the basic lessons, one time $3.99 purchase unlocks everything Guided courses for beginners, to experienced meditators Collections for topics and specific issues like stress and anxiety, insomnia, depression, health problems, and developing love and kindness Build a library of favorite meditations, and use Chromecast to stream to your tv
Stop, Breathe and think: Free for basic lessons, one time $4.99 purchase unlocks everything Check in with your body and emotions with a quick questionnaire and receive recommend meditations based on your results Collections of meditations on hundreds of topics Each meditation has several versions, you can usually choose between English or Spanish, select instructors, or choose between shorter or longer versions of the same meditation Save favorite meditations for later Set meditation reminders
After a quick break, we'll discuss non-guided meditation resources.
---
I want to pause for a moment to encourage you to keep this discussion going. If you like what you hear here, please share my podcast on social media or text the link bit.ly/findwholephil to your friends. We can keep this conversation going on Twitter, I'm @reallyphilreese, use the hashtag #getyourwholephil. If you're new, subscribe at the bitly link I just mentioned, and give me a rating wherever you subscribe. Thanks, fam.
---
Now on with the show.
Not everyone wants to be guided through their meditation every time. You may want to guide yourself. Here are some apps that may help.
Insight meditation timer: Create and save a timed sequences with bells and knocks at various intervals Add background sounds like birds or water flowing to pick up your mood. Set reminders to do a meditation every day
White Noise Lite Choose from various sounds like nature sounds, chimes and bells, city sounds, or other white ambient noise Mix sounds together and save recordings Set multiple reminders to be sure you meditate throughout the day Access collections of mixes, or hear other people's recordings
My noise Granular mixing of various types of sounds to get the perfect rain storm or perfect forest scene through their highly customizable equalizer Set a timer, or animate your equalizer to gradually bring you from a rainy thunderstorm into a serene forest after the storm, automatically
Brain Waver If you know about the 5 brain waves: gamma busy thinking waves, beta consciousness waves, alpha subconsciousness waves, theta sleep waves and delta deep sleep waves, you probably already know the theory that listening to sounds that oscillate at the same frequency of these waves can encourage your brain to start producing the wave you want. These are colloquially called binaural beats Brain Waver lets you customize how much of each frequency you want in your beat, creating customized beats for you, with advanced options for timer, gradual changing of beats, type of noise, etc.
Podcasting apps like Castbox: Access thousands of free guided and instructional meditation podcasts, with some I recommend being Coffee with Raph, Guided Meditation Podcast, Learn to Meditate, Mindful 15, Meditation Oasis, The One Mind Meditation Podcast, 60 Seconds of Solitude, Daily Meditation Podcast, Meditation Station and Deep Energy Podcast Castbox has a Zen Mode where you can mix nature and ambient sounds and set a timer for timed meditations or just to fall asleep
YouTube:
There are literally hundreds of thousands of meditation and ASMR YouTubers out there and I'm not going to list any here, but I'll probably do another podcast at some point on meditation podcasters and YouTubers. Search for specific types of meditation you'd like to do, like mindfulness meditation, Zen meditation, contemplative meditation, open monitoring meditation, focus meditation, vibration or trans meditation, which is the free, non-trademarked version of transcendental meditation, mantra meditation, chanting, raja yoga meditation, insight meditation, vajrayana meditation, autogenic meditation, progressive muscle relaxation, the relaxation response, daoist meditation, tantric meditation, movement meditation, I am meditation, etc.
The important part is to give a specific meditation practice you want to cultivate a chance before you abandon it. Try an app or a type of meditation every day for two weeks, and see how it makes you feel. Then, if you're just still not getting anything out of it, try a different one out every day for two weeks. Eventually you'll find something that affects you positively, and you'll be able to cultivate a healthy daily practice!
---
That's it for today. I hope you're enjoying the show. If you like what you hear, please subscribe wherever you listen to podcasts, just search Whole Phil or go to bit.ly/findwholephil, and please drop me a rating. Tweet me at @reallyphilreese with topic ideas you think I should cover.
Speaking of meditation, this coming Saturday, May 16, I am hosting Euphoria, a free, live, virtual meditation and dance party. I have wanted to do something like this for a while, and now is the perfect time. We will kick off with about a half hour of very slightly guided meditation over some meditative beats, and as that wraps up, we will gradually transition into dancier and dancier beats, until the music has evolved back into the kind of groove you can move to. Share it and join with your friends and make it a great Saturday night! Follow my Facebook page, Phil Reese the DJ, or my Twitter, @reallyphilreese or bit.ly/philreeseeuphoria for more info. And, remember, if you enjoy what you hear there or even here, you can throw me a tip via Venmo, to help support me while I'm out of DJ work. My venmo is at phil-dash-reese. That's at p-h-i-l-dash-r-e-e-s-e.
And, finally, remember, be good to yourself, love yourself, and we're all in this together.
Support Whole Phil by donating to their Tip Jar: https://tips.pinecast.com/jar/whole-phil
Find out more at https://whole-phil.pinecast.co
This podcast is powered by Pinecast.